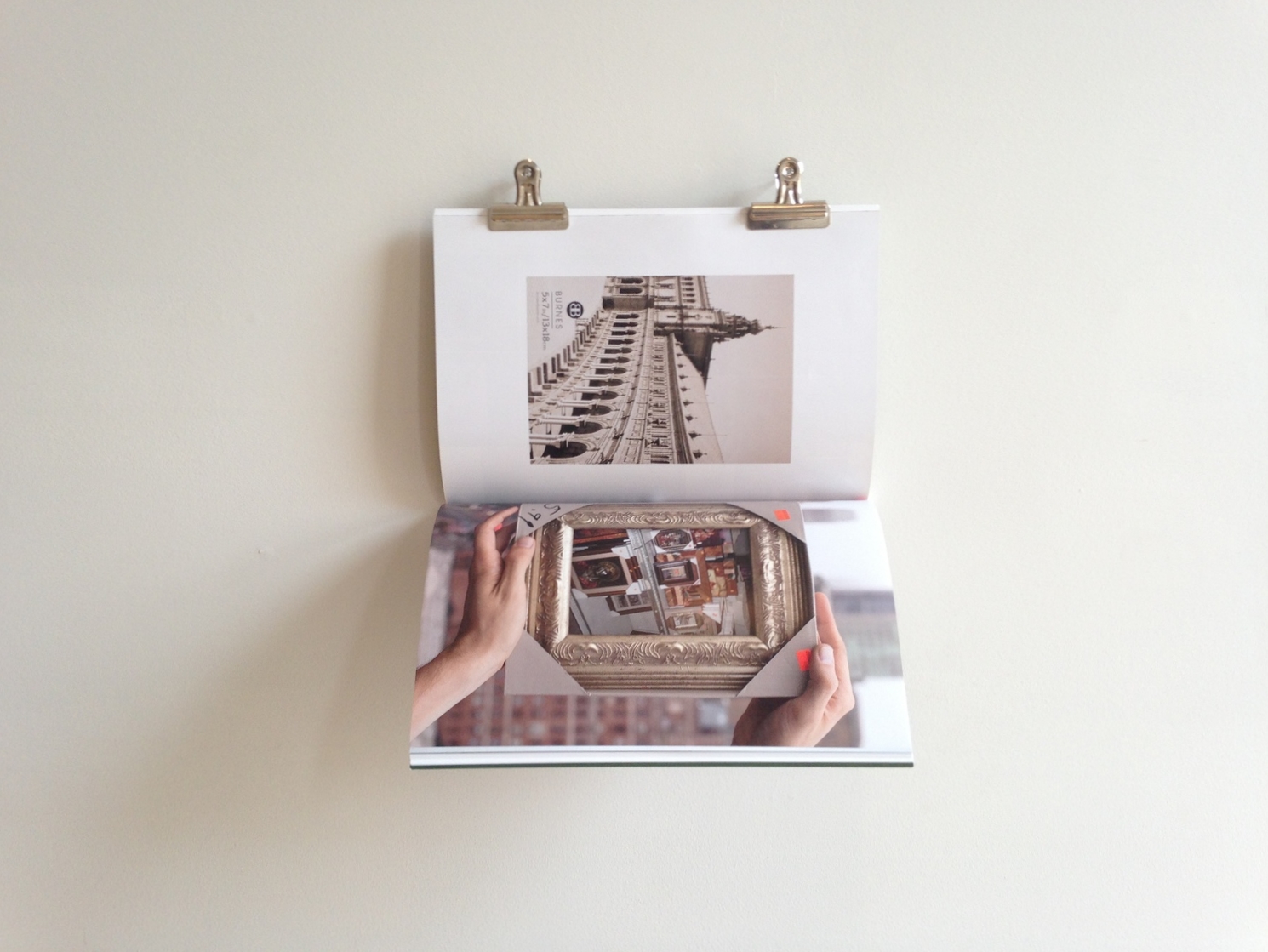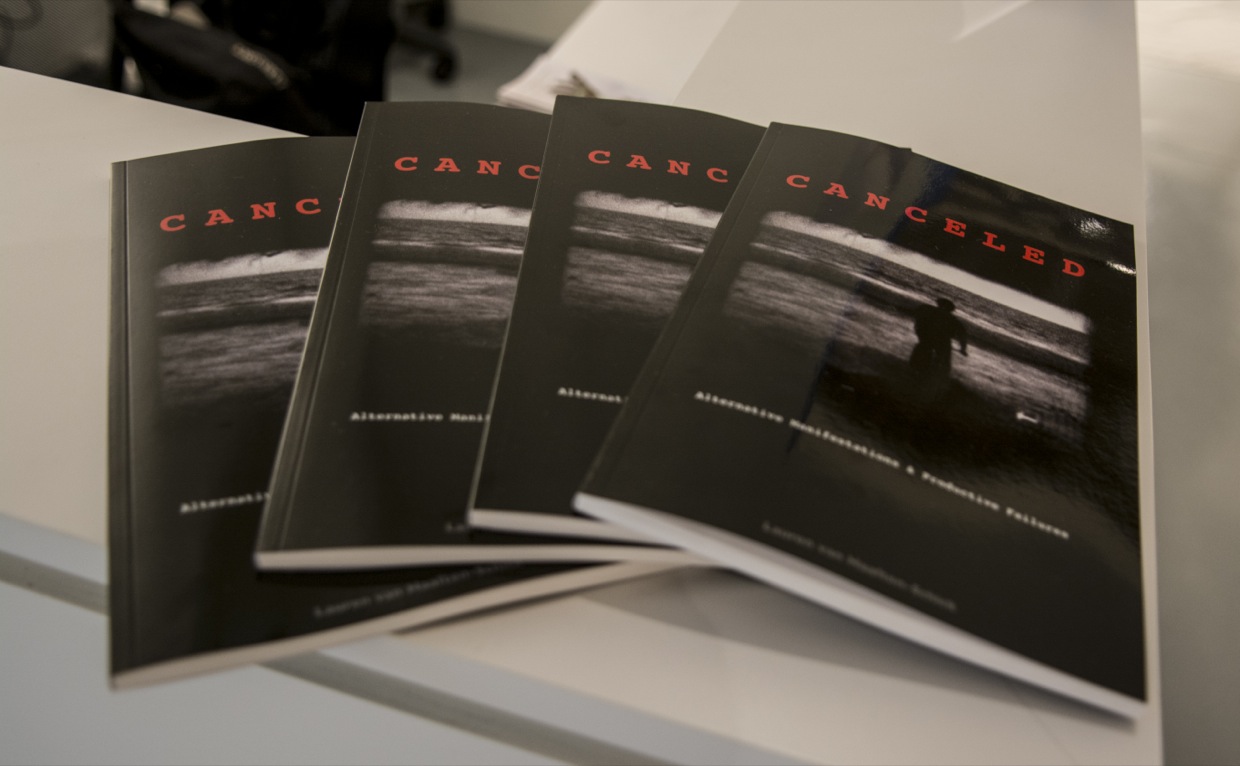 Cookbook Dreams and Inflatable Futures
March 8, 2014 through April 19, 2014
Antoine Lefebvre, Robin Cameron, Cybele Lyle, Luca Antonucci, John Bohl, NOWORK, Lauren van Haaften-Schick
Curated by Arts & Sciences Projects
Guest Spot at THE REINSTITUTE is pleased to present Cookbook Dreams and Inflatable Futures, a group exhibition organized by Arts & Sciences Projects. Opening Saturday March 8, 2014, the works will be on view through April 19, 2014. The show will feature artists' books and works in other media by Antoine Lefebvre, Robin Cameron, Cybele Lyle, Luca Antonucci, John Bohl, NOWORK, and Lauren van Haaften-Schick.
Inspired by Ant Farm's 1971 Inflatocookbook, which envisioned a utopia of DIY inflatables within its humble photocopied pages, Cookbook Dreams and Inflatable Futures brings together artists who concoct varied approaches to circulating and advancing concepts and ideas central to their practice through innovative means of book making and distribution. For these artists, books are conceived as alternative spaces in which to exhibit works to a broader audience; they embrace a process-oriented approach to book making, where dialogues are revealed between books and works in other media, including photography, prints, video, and painting. The assembled artists in Cookbook Dreams and Inflatable Futures not only utilize the book as a vehicle for their ideas, they also position the book as an art object, thus challenging notions of assigned value in contemporary art. In making a diverse range of books, these artists assert agency by choice of content, form, materials, and production values. What unites the artists in the show is the realization of the boundless possibilities of books as they enter circulation, free to establish a life of their own.
Antoine Lefebvre initiated La Bibliothèque Fantastique (LBF) in 2009 as an artist's book virtual publisher. Free and downloadable from the internet, LBF books are made of excerpts of other works, with pages, sentences and words realized in new editions, thus developing a discourse on the ontology of the book. Robin Cameron's The Book That Makes Itself exposes its own production through its content and form. By personifying the book itself, Cameron articulates her artistic practice as the subject (The Artist), agent and author. The collaborative practice of Cybele Lyle and Luca Antonucci reveals itself in their Space, Time + Architecture project, which includes the titular Sigfried Giedion tome in a highly redacted state, collaged photographs that imagine new conceptions of space, and a revised, letterpressed Space, Time + Architecture that unites their ideas into a new form. John Bohl uses painting and sculpture to examine utopia, kitsch, and romanticism. Typically produced in collabration with other artists, his books may be seen as sculptural objects dialectically engaged with his paintings and works in other media. NOWORK is a platform for collaboratively produced, anonymous projects that relate to New York City, with a focus on photographic material in public spaces. Not citing individual authorship for their work has allowed them to treat their source material, whether taken or found, as part of an act of re-circulation. The problem of artistic agency features prominently in Lauren van Haaften-Shick's curatorial practice, which considers a selection of art exhibitions manifested in alternative forms, such as publications. van Haaften-Schick's work highlights the book form (and printed matter) as a crucial means of disseminating artworks and ideas, potentially in ways that are more historically accessible and lasting than a traditional exhibition would have been.
BIOS
Luca Nino Antonucci lives and works in San Francisco, California. He received his MFA from the San Francisco Art Institute in 2010 and is a resident artist at Basement. He is editor and co-founder of Colpa Press, an independent publishing company specializing in art books. He has exhibited his work widely in San Francisco, New York and Berlin. With Carissa Potter, he founded and previously operated Edicola, a re-purposed newsstand kiosk on San Francisco's Market Street, selling artists' books, fine art prints, independently published periodicals, and records. itwillbeok.com
John Bohl was born in 1983 in New York. Bohl graduated with a BFA in painting from the Maryland Institute College of Art and currently lives and works in Baltimore. Recent exhibitions include ICA Baltimore (solo), Nudashank, Baltimore Liste at the Contemporary Museum (solo), Guest Spot, and Current Gallery. In 2012 he was a Sondheim Award Semi-finalist and a resident artist at the Vermont Studio Center. john-bohl.com
Robin Cameron, (b.1981, Canada lives and works in New York) studied at Emily Carr University in Vancouver and received an MFA at Columbia University, New York, NY in 2012. She has had solo exhibitions at Art Metropole and Room East, with a recent show at Lefebvre & Fils. Her work has been promised as a gift to the Whitney Museum of American Art. A comprehensive selection of her books are held in the Library of the Museum of Modern Art. Library presentations of her books have been included at the ICA in Philadelphia, Art In General, the New Museum's Resource Center and the Museum of Contemporary Art Chicago. She has been a jury member for Printed Matter's grant Books For Artists and she has attended a residency at the Banff Centre, Banff, Alberta. She is currently represented in New York by Room East. robincameron.org
Antoine Lefebvre, founder of La Bibliothèque Fantastique, is an artist-publisher based in Paris. He recently completed a one-year residency at New York University in a joint exchange with the Sorbonne, where he is a PhD candidate in Fine Arts. Lefebvre's work has been exhibited at Printed Matter; the NY Art Book Fair at MoMA/PS1; Miss Read, ABC Berlin; Peanut Underground, New York; and Palais de Tokyo, Paris, among others. www.antoinelefebvre.net
Cybele Lyle holds an MFA from Hunter College in New York City, where she received the Tony Smith Award upon graduating. She received a BFA in printmaking in 2001 from California College of the Arts. Cybele has been an artist in residence at the Bemis Center, Atlantic Center for the Arts and Ox-Bow. She was selected as a finalist for the 2012 SECA award and is a current Kala Fellow in Berkeley. Cybele has a studio at Real Time & Space in Oakland and lives in San Francisco. She is currently represented by Et al. Gallery in San Francisco. cybelelyle.com
NOWORK started in 2011 in New York City. Certain NOWORK publications are conceived serially, while others function independently, sometimes in conjunction with an installation. Their published works and installations have been exhibited at Ed. Varie, 8-Ball Zine Fair, New York Art Book Fair, LA Art Book Fair, and Open Space Baltimore, among other venues. nowork.us
Lauren van Haaften-Schick is a curator, artist and writer from New York. Her current research and artistic interests concern the legal and economic factors that influence the conceptual and material manifestations of art. Recent and upcoming exhibitions include Canceled: Alternative Manifestations and Productive Failures at the Center for Books Arts (NY), Albright College (PA), and Smith College (MA), and Non-Participation published by Half Letter Press (IL/Denmark), and presented at the Luminary Center for the Arts (MO). She was the founding director of Gallery TK in Northampton, MA from 2004-2006, and AHN|VHS gallery and bookstore in Philadelphia from 2009-2010. www.laurenvhs.com
Arts & Sciences Projects is an organization dedicated to providing a production and dissemination platform for emerging and established artists through independent publishing, an alternative project space, and temporary installations and performances. In addition to organizing exhibits in a New York project space from 2008-2012, Arts & Sciences Projects has exhibited at the NY Art Book Fair, the LA Art Book Fair, and in London, Reykavik, and Rotterdam. Published works are held in the collections of the Joan Flasch Artists' Book Collection at the School of the Art Institute of Chicago, the Maryland Institute College of Art Library, and the Getty Research Institute. Arts & Sciences Projects is co-directed by Martin Masetto and Philip Tomaru. www.artsandsciencesprojects.com