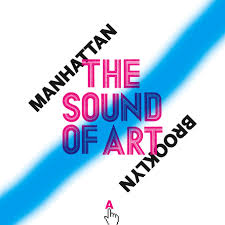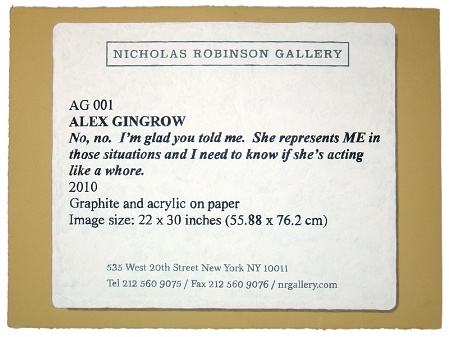 LANDSCAPE REMIX
June 22, 2012 through August 4, 2012
Curated by: Rod Malin
Landscape Remix features a group of contemporary artists whose work focuses on transcending historic expectations inherent in the depiction of the classical landscape. Even though the landscape is regarded just as influential and significantly vital as in the past, artists have become disconnected from the term "landscape" and any association with the word itself. Disassociating from rhetorical art terms can be sign of retreat to a singular need to redefine art, creating a proxy for individual understanding. The authority to substitute images for words is exemplified in the pictorial dominance of the digital age. This technological trend has influenced the artist's struggle to redefine place in relation to self, reinforcing an anti-labeling taxonomy.
Works By: Alex Gingrow, Lesser Gonzalez Alvarez, Jay Hardman, Paddy Johnson, Ron Lambert, Keith Lea, Alan Resnick
Born in 1979 in Knoxville, TN, Alex Gingrow has lived and studied in cities as various as Boston, MA, Savannah, GA and the small village of Dorf Tirol, in northern Italy. In addition to her own artistic production, she has participated in numerous panel discussions, fundraisers, and as a guest artist at various performances and happenings. Gingrow has exhibited widely both nationally and internationally. Gingrow currently resides in Brooklyn, NY where she maintains a rigorous studio practice while holding a daytime job at a frame shop in Chelsea. Alex is getting ready for her first solo debut in New York: "All the money IS in the label"at Mike Weiss Gallery.
Lesser Gonzalez Alvarez (b.1983) was born in Havana, Cuba. He is an internationally exhibited artist, writer, and musician. In his recent work, Gonzalez explores a contemporary environment in which virtuality often supersedes actuality. His digital illustrations, sculptures, manipulated photography, 3d renderings and videos often dissect the value of manual labor, the tangibility of virtual space, and other pressing contemporary issues. Borrowing techniques from the world of commercial art, Gonzalez marks popular culture with a sense of its own transience and shelf life. Lesser received his education from Design and Architecture Senior High, an art magnet high school in Miami, Florida, and the Maryland Institute College of Art, where he received his BFA as well as a Masters Degree in Digital Arts. He's been a semi-finalist for the Jane & Walter Sondheim Prize, and his work has been featured in publications such as Esopus, The Believer, and Flaunt. Lesser's work has been exhibited at the Prague Contemporary Art Festival, Art 42 Basel, ARCO at Matadero Madrid, the Emma Thomas Gallery in Sao Paulo, Brazil, the Roy and Frieda Furman Gallery at the Lincoln Center for the Performing Arts, the Anna-Maria and Stephen Kellen Gallery at Parsons New School, the Fountain Art Fair in New York, as well as closer to home at such spaces like the Nudashank Gallery, Current Space, The Stamp Gallery at the University of Maryland, College Park, and Case(werks) Showroom & Gallery. Additionally, his illustration work was featured at MOMA PS1′s 'Holding Pattern' in the summer of 2011. Earlier this year, Gonzalez completed his first solo exhibition entitled 'Make/Shift', at the Open Space Gallery in Baltimore, MD.
Drawing from his experience as a contractor in the construction industry, Philadelphia based artist, Jay Hardman creates small scale sculptures and installations that examine contemporary building practices and their relationship to communities. Produced with a variety of media, from common building materials to foodstuffs, these works exhibit both an architectural formalism and quaint domesticity that merges sculpture and model-making. Hardman is a member of Vox Populi, a Philadelphia based cooperative gallery and has shown nationally at Buckham Gallery, Flint, MI; University of Oklahoma, Norman, OK; Contemparary Art Center of Las Vegas, Las Vegas, NV; Manhatttanville College, Purchase, NY; Arcadia University, Glenside, PA; and throughout the Philadelphia area at; Fleisher/Ollman Gallery, The Philadelphia Art Alliance, Projects Gallery, Little Berlin and most recently the solo exhibition "Unsustainable" at Space 1026. Future projects include solo exhibitions at the Indianapolis Art Center, Indianapolis, IN; and Vox Populi, Philadelphia, PA.
Paddy Johnson is the founding editor of Art Fag City. In addition to her work on the blog, she has been published in New York Magazine, The Guardian, and the Economist. She also lectures widely about art and the Internet at venues including Yale University, South by Southwest, and the Whitney Independent Study Program. In 2007 she received a scholarship to attend iCommons conference in Croatia as the art critic. In 2008, she served on the board of the Rockefeller Foundation New Media Fellowships and became the first blogger to earn a Creative Capital Arts Writers grant from the Creative Capital Foundation. Two years later, she was nominated for best art critic at The Rob Pruitt Art Awards and won The 2010 Village Voice award for Best Art Blog. The blog once more won the award in 2011. Johnson also writes a regular column on art for TheL Magazine.
Working mainly in video and sculpture, Ron Lambert investigates the intersection between psychology and the environment. He received his MFA from the School of Art and Design at Alfred University, and his BFA from the University of Connecticut. Ron is currently an assistant professor at Watkins College of Art and Design in Nashville, Tennessee. Ron's work has been published in Shaping Space, Third Edition, and Color, Third Edition, both by Paul Zelanski as well as the show catalogue People Doing Strange Things With Electricity. Ron has shown in galleries nationally, including the Urban Institute for Contemporary Art in Michigan, the Attleboro Arts Museum in Massachusetts, the Center on Contemporary Art in Seattle, the Housatonic Museum of Art in Connecticut, and several college and university galleries around the country. His videos have been screened internationally including the Crosstalk Video Festival in Budapest Hungary, and the Sanluan Yishu project in Beijing China. His work is in the Vascovitz collection, the Swedish Medical Center, and the collection of the Tacoma Art Museum. Ron is a founding member and president of the COOP collective in Nashville TN.
Keith Lea: The Profile Engine
Keith Lea. Are you Keith Lea? Claim this profile now to update it and access more features. Contact: Find …
Alan Resnick is a visual artist obsessed with his own face. Since 2009 he has been working towards the creation of a lifelike digital backup. This avatar is being designed to fill the role of Alan to family and friends in the event of his death. Alan has also gives"neat" lectures about the importance of digitizing the self and DIY virtual reality technology. After receiving his BFA from SUNY Purchase he started collaborating with the Wham City collective. He exaggerates his own self worth or importance, often in an overbearing manner.